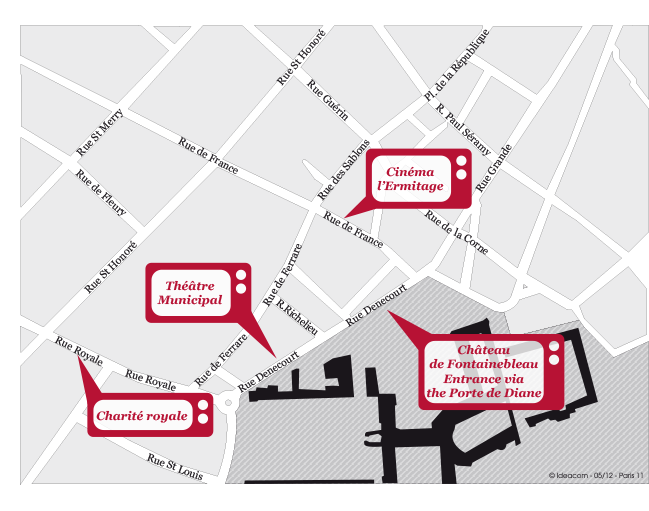 Access
The venue :
The Festival Centre is located at the :
Théâtre de Fontainebleau
Access via the main entrance
6, rue Denecourt - 77300 Fontainebleau
Screenings, case studies, masterclasses, the Meeting and Pitching Room, the Videotheque
Château de Fontainebleau
Access via the "Porte de Diane" entrance
Place Denecourt
Dinners and parties
Cinéma Ermitage
6, rue de France - 77300 Fontainebleau
Screenings and meetings
Hôtel Aigle Noir
27 place Napoléon Bonaparte
Private meetings
La Demeure du Parc
36 Rue Paul Séramy
Conclaves, discussions.
Transport
By car :
Journey predominantly on the motorway. Parking available within close proximity of the festival (notably behind the theatre).  Distance : 69 km.
Parkings around the Festival
Interparking Château: 2 rue de Ferrare
Place d'armes: 7 rue de la Chancellerie
Napoléon: Place Napoléon Bonaparte, indoor parking
Interparking: 44 route du Château, indoor parking
Rate for 1 day: 19,20 €
By train + shuttle :
Train from the Gare de Lyon in Paris (Transilien or TER) (40 mins).  Get off at the Fontainebleau-Avon stop.
Further information on : www.transilien.com
There is a bus service from the station to the centre of Fontainebleau.
Accommodation
Fontainebleau
La Demeure du Parc ****
36 Rue Paul Séramy, 77300 Fontainebleau
Tél. +33 (0)1 60 70 20 00
E-mail : contact@lademeureduparc.fr
Aigle Noir Hôtel ****
Tél. +33 (0)1 60 74 60 00
E-mail : reception@hotelaiglenoir.com
Hotel Victoria ***
Tél. +33 (0)1 60 74 90 00
E-mail : resa@hotelvictoria.com
Hôtel de Londres ***
Tél. +33 (0)1 64 22 20 21
E-mail : hdelondres1850@aol.com
Hôtel Ibis Fontainebleau **
Tel:  +33 (0)1 64 23 45 25
E-mail : H1028@accor.com
Hôtel de la Carpe d'Or **
Tél. +33 (0)1 64 22 28 64
E-mail : contact@hotelcarpedor.com
Le Richelieu **
Tél. +33 (0)1 64 22 26 46
E-mail : richelieu.bacchus@wanadoo.fr
Samois sur Seine (7 km)
Hôtel Country Club ***
Tel: +33 (0)1 64 24 60 34 -
E-mail : mail@hotelcountryclub.com
Avon (3 km)
Hôtel Ibis Budget * – à 3 km – Bus n° 1 - 15 mins to Château
Tél. +33(0)892 68 07 94
E-mail : h2720@accor.com
Barbizon (9 km)
Hôtel les Pléiades *****
Tel. + 33 (0)1 60 66 40 25
E-mail : reception@hotel-les-pleiades.com
Bourron-Marlotte
Château de Bourron
Tél. +33 (0)1 64 78 39 39
E-mail : bourron@bourron.fr