Serie Series is a 100% TV Series Festival, by and for those who make them.
Série Series is the first European event devoted exclusively to TV series which was created in Fontainebleau (France) in July 2012.  Série Series is a high-level meeting place for leading creators of TV series. Over three days of screenings and meetings, with no award element, Série Series shows the best of European TV series creation and invites the creative teams to talk about their work. This TV drama think tank has become a "not to be missed" event for all TV professionals: screenwriters, directors, producers, channel representatives...
Série Series was thought up and implemented by professionals from the world of TV series (the Editorial Committee) to show and share the best of European TV series. This Committee is made up of producers, directors, composers and screenwriters.  Their idea behind this convivial European rendez-vous is discovery, enthusiasm and the pleasure of sharing a passion for series.
Primarily conceived for European audiovisual professionals, the general public also has free access.
The three-day programme, including screenings of brand new series, professional meetings, workshops and events for the public, is devoted to the best in European series.
On the Programme
Série Series is 100% devoted to European TV series.  Over the 3 days, around 15 series, both unreleased and known to the public, are showcased and presented by their entire creative teams (screenwriters, directors, composers, actors, producers and broadcasters) who explain the development process in detail.
Série Series is a real think tank, helping to create a TV series network of professionals across Europe.  Professionals come from the four corners of Europe – Great Britain, Ireland, Sweden, Denmark, Norway, Finland, Germany, Austria, Belgium, the Netherlands, Spain, France, Italy ….
This exclusive programme is to be discovered during round tables, screenings, case studies, dinners and parties, all in a convivial, festive and creative atmosphere, in the wonderful setting of Fontainebleau and its extraordinary château.
In 2015, Série Series set up the European Series Summit, a new space grouping together many initiatives exclusively for professionals. The European Series Summit, located right at the centre of the event, proposes meetings in small groups for European professionals keen to broaden their horizons and to strengthen their networks and for made-to-measure one-to-one meetings between series' creators from the 4 corners of Europe.  A programme and ad hoc meetings with the aim of facilitating the development and realisation of new series in Europe, co-productions and pan-European collaborations, enabling professionals to foresee trends and to discover works in progress.
These initiatives are carried through with the organisation of off-site sessions in Europe and the development of THE LINK, an online professional network, facilitating contacts with professionals and their projects.
The Summit is an informal marketplace for European series within Série Series, which will be further developed in 2017.
Série Series has become the meeting place for those who think up, create and are passionate about series.
Our Creative Committees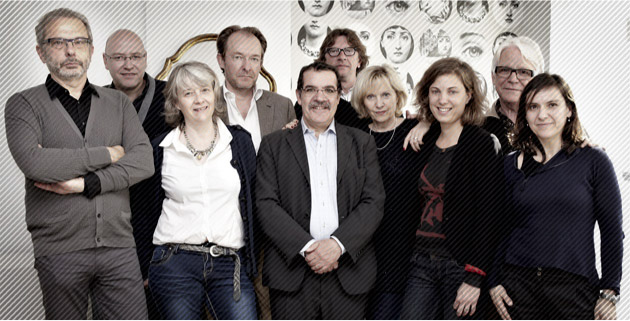 Série Series is produced and run by Kandimari - a French agency specialised in the production and promotion of cultural events and festivals – in close collaboration with an editorial committee made up of professionals, who are leaders in their fields and play an active role in the programming and the networks involved. Since 2014, they have been supported by a European steering group.
Television series are a team effort : screenwriters, directors, producers, composers distributors and representatives from European channels, all working on producing quality series.  Série Series is based on this idea of creating, as a team.  The editorial committee is made of representatives from the different sectors, who have got together to set up a convivial and festive event, adapted to all the different sectors.
The Editorial Committee is chaired by: Nicole Jamet (screenwriter, actress, and ex-chairwoman of Scénaristes en Séries), Philippe Triboit (director), and Jean-François Boyer (producer TetraMedia and chairman of the APA).
Also on the Committee are : Bénédicte Lesage (producer, Mascaret films), Hervé Hadmar (screenwriter and director), Nicolas Jorelle (composer), and David Kodsi (producer, K'ien).
Série Series is always very much aware of the concerns of the European players in this sector thanks to advice from our European Steering Group, made up of Tasja Abel (vice-president ZDFE Drama, Germany), Stefan Baron (producer, Nice Drama / Nice Entertainment Groupe, Sweden), Harald Hamrell (director, Sweden), Anne Landois (screenwriter and showrunner, France), Lars Lundström (author and producer, Sweden), Jed Mercurio (author and screenwriter), United Kingdom), Luca Milano (Rai Fiction, Italy), David O'Donoghue (producer, Carnival Films, United Kingdom), Tone C.Rønning (commissioning editor/executive Producer NRK), Norway)